Breast Mastery
---
With the help of some of my co-stars, I've put a course together to teach men like you how to play with a woman's breasts.
Sit back and enjoy these sexy demonstrations and you'll master her breasts in no time flat.
I'll start by showing you the common mistakes guys make.
If you've ever felt clueless around her boobs, and you have no idea if she's even enjoying it… this video is for you.
I'll also show you how touching certain sensitive breast zones can get her wetter and more aroused than anything you've tried before…
Then, you'll learn a sneaky way to "short-circuit" her body into a state of arousal, sending shockwaves through her body with every touch.
You'll also watch a demonstration of the best way to use your mouth and teeth on her breasts in a way that will make her moan.
But there's more…
I'll reveal six breast-stroking techniques you've never tried before that will make her body quiver… And have her begging you to penetrate her.
You'll learn the best positions to titty-fuck her, including one that's guaranteed to make her squeal with pleasure.
I'll showcase three ways you can touch her boobs while fucking her to make her orgasm even faster. (The last one is best for rough sex and can make her willingly submit to you.)
You'll also discover…
Four erotic breast massage techniques that get her aroused even if she isn't in the mood.
And finally, the ultimate technique…
How to make her cum just by touching and licking her breasts.
I'll teach you a proven step-by-step process that gets her aroused… builds her pleasure to bursting… until she finally melts into pools of bliss as her body shakes and convulses.
I promise you this technique will make you a Greek god in her eyes.
And that's just a tiny sample of everything in the program.
So, what's it going to be?
You can keep trying the same old techniques that, bore her to death…
And make her fantasize about someone other than you…
OR
You can make sure the only person she fantasizes about is you.
In less than an hour from right now you can be using my step-by-step video guide to help give your lady a powerful breast orgasm unlike any she's ever had… starting immediately!
This might just be the most valuable information you ever learn, and it can recharge, restore, and re-energize your sex life.
That's why, today, you can get access to the full Breast Mastery program for yourself…
And to say thank you for sticking around and watching this presentation, I'm offering you a generous 50% discount…
So you can get this crucial information…
And give your woman some of the best orgasms she's ever had…
While you get to enjoy playing with her boobs way more than before.
It's a win-win.
Click the button below right now to take advantage of this offer while it lasts.
Course Overview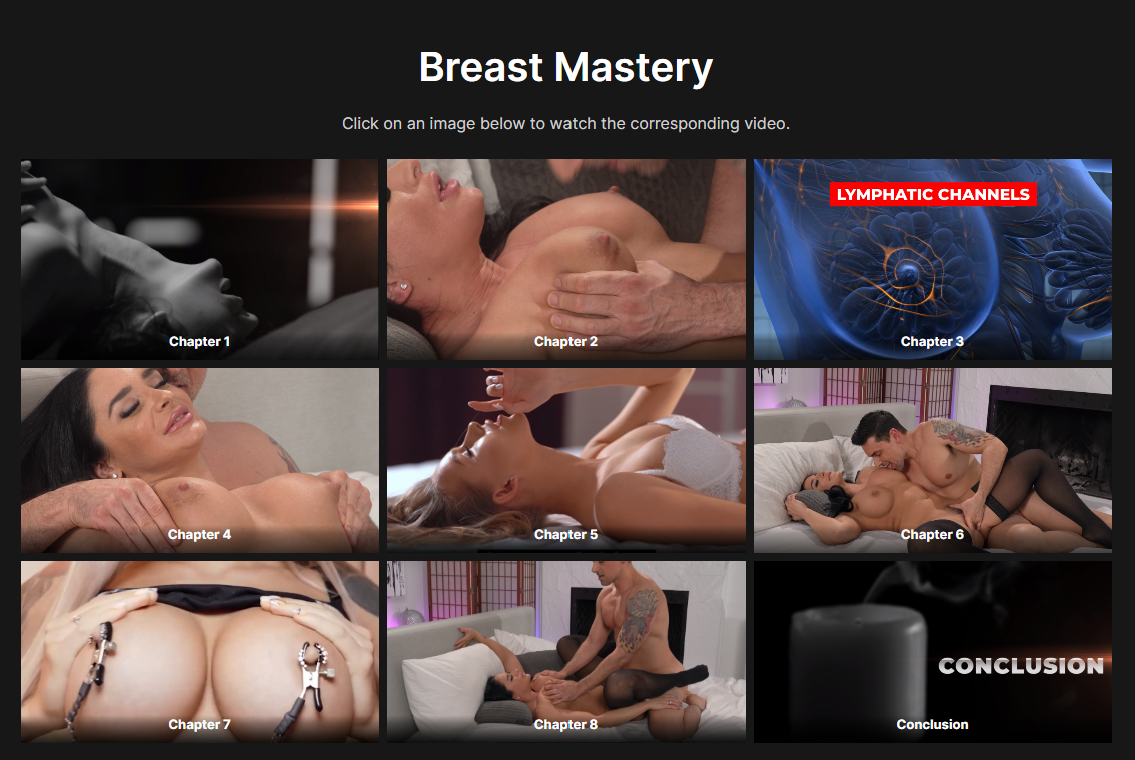 This master course teaches men like you how to play and stimulate a woman's breasts to increase her sexual satisfaction!
You get 9 videos, that's over 22 minutes of content!
For the low price of $37.00